Thousands of People are Resisting Against the Massacre of Mount Ida for Gold Mine!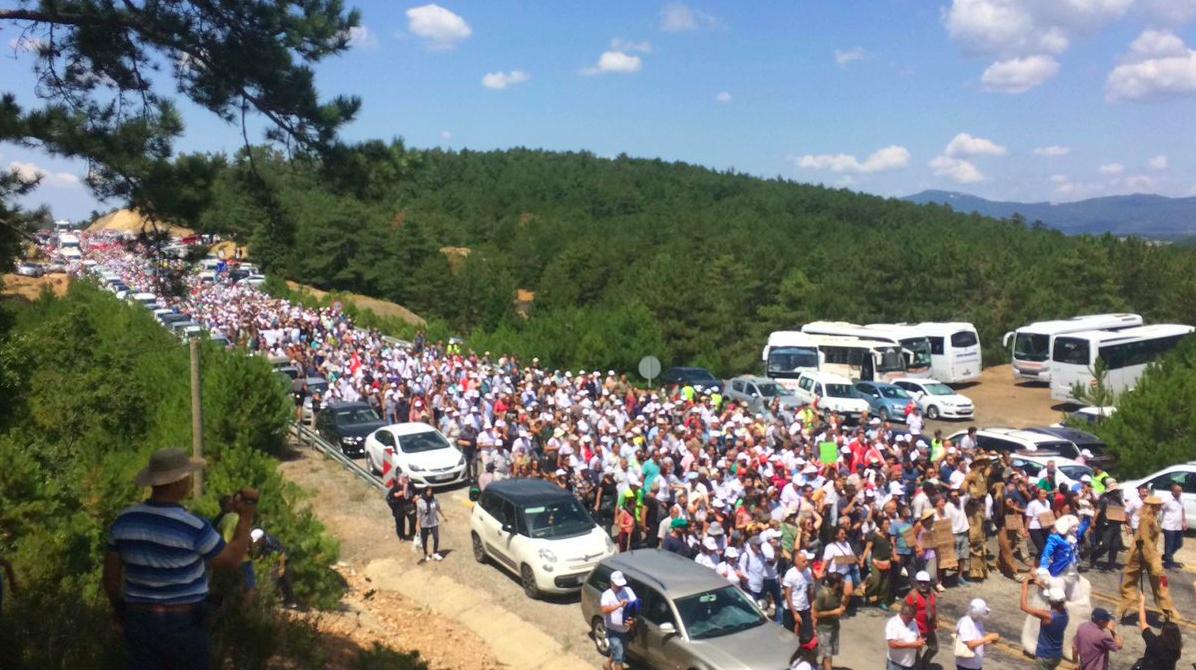 Thousands of people took on streets for "water watch" against the massacre in Kirazlı, Çanakkale, Turkey.  
In Çanakkale, where the capital tries to pass its claws due to its gold mines, now the target has become Kirazlı. With the permission of the Ministry of Energy and Natural Resources, Canada-based Alamos Gold massacred the village of Kirazlı in Çanakkale.
As 45,000 trees are planned to be cut down within the scope of the project approved by the Ministry of Energy and Natural Resources in March, the debate on the cancellation of the project, which was reacted by NGOs and the opposition after the felling of 195,000 trees, was rejected by the AKP and MHP votes in parliament. The government once again showed that it was on the side of the bosses, announcing that the project, which is only 30 kilometres away from the city centre and will use 20,000 tonnes of cyanide during its construction, is totally "legal". The continuation of this project will not only limit the loss of 195,000 trees, but will also destroy the ecological order in the region by creating a massacre of nature, polluting the drinking water resources of Çanakkale and posing an important threat to the health of the people of the region. How much do the bosses care about public health and the maintenance of natural life in the Mount Ida?
The Canadian-based Alamos Gold Company at the beginning of the project is known for years looting resources in Latin America. Kirazlı Gold Mine Project is run by Doğu Biga Mine Company, which is affiliated, to Alamos Gold. However, the signatories of the massacre are not limited to this. The project includes Eczacıbaşı Holding, Nurol Holding, Cengiz Holding, Koç Holding and Koza Gold Enterprises of Turkey. When it comes to money, the most conservative or secular boss does not see any problem to exploit this land, this people.
So, What Should We Do?
We, Socialist Labourer's Party, Turkish section of ISL, are in solidarity with the people of Çanakkale. We are participating to the mobilizations and every resistance against this looting. We are aware that, without the fight against capitalism, it is impossible to save the nature from the hands of capitalists. Defending nature and life is a fight against bosses who slaughter them and fill their bags. We urge everyone who wants to defend nature, life and labour to fight and to save the world from these parasites!